Janice L Chapman
About Janice Chapman
About Singing & Teaching Singing: A Holistic Approach to Classical Voice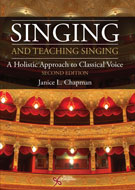 After a lifetime as a singer and nearly half that as a teacher of singers, I have written a Vocal Pedagogy.
Singing and Teaching Singing - A Holistic Approach to Classical Voice is published by Plural Publishing Inc. (San Diego, London, Brisbane) and is available through normal retailers and Amazon.
The book reflects my current practice within my private studio where I work with many professional singers at all levels of achievement; at the Royal Academy of Music and the Guildhall School of Music and Drama, London where I lecture and work mostly with post-graduate level students; and also my work with vocal rehabilitation for referred ENT voice clinic clients.

Singing and Teaching Singing - A Holistic Approach to Classical Voice
Author: Janice L Chapman
339 pages, paperback
Publisher: Plural Publishing Inc., (14th November 2011)
Language: English
ISBN-10: 1597564265

Click to buy from amazon.co.uk (£)
Click to buy from amazon.com ($)

About Janice Chapman
About Singing & Teaching Singing: A Holistic Approach to Classical Voice

This site and its supporting style sheet have been validated using tests provided by the
World Wide Web Consortium (W3C)
Website design & management by david siddall multimedia
Hosted by Dodd & Associates
© Janice L Chapman 2013