Janice L Chapman
Home
About Singing & Teaching Singing: A Holistic Approach to Classical Voice
back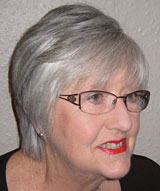 Janice Chapman FGS AUA OAM
Australian born singer/teacher, Janice Chapman is regarded as one of the U.K.'s leading teachers of singing at international level with clients from all over Europe who regularly come to London for lessons. She is currently a member of the vocal faculties of The Guildhall School of Music and Drama, and The Royal Academy of Music, London.
Her own career as a singer spanned over 35 years, with engagements as a principal soprano in all the major U.K. companies, including the Royal Opera Covent Garden, English National Opera, and in many European countries. In Australia Janice won a number of major competitions including the Sun Aria, and the ABC Concerto & Vocal Competition. Shortly after commencing her studies at the Royal College of Music, she won the coveted Kathleen Ferrier Competition. While a student at the London Opera Centre she was invited to sing Miss Jessel in Benjamin Britten's The Turn of the Screw during the English Opera Group's tour to Russia, conducted by the composer. There followed a contract as a principal soprano with Sadler's Wells Opera where, during the following decade she sang many roles including The Countess (The Marriage of Figaro): Electra (Idomeneo); Gertrude (Hansel and Gretel); and Leonora (The Force of Destiny). As a freelance artist Janice Chapman sang regularly at the English National Opera, the English Opera Group, Welsh and Scottish National Operas and abroad. Her roles included Sieglinde, Third Norn, Fata Morgana, Aida, Vitellia, Donna Anna, Abigaille, Ellen Orford, Mrs. Grose, and Lady Billows. At the Royal Opera House, Covent Garden she created the role of Mrs. Julian in the world stage premiere of Benjamin Britten's Owen Wingrave. She has broadcast for the B.B.C. and appeared in concerts and recitals world-wide.
In 1975 she combined her singing career with teaching when she was invited to join the faculty of London College of Music where she worked for 8 years before leaving to concentrate on her private practice. She became a member of the founding committee of the Voice Research Society, which subsequently became the British Voice Association, and served as Chair, committee member and Hon. Treasurer over many years.
Miss Chapman has presented papers, workshops, masterclasses and courses in the U.K., U.S.A., Australia, New Zealand and in Europe during the past 25 years and has achieved an international reputation. She was an invited Master Teacher at the New Zealand ICVT conference in 1994 again as Plenary speaker in Paris in 2008. Many of her singing clients are internationally recognised opera, recording, and concert artists. Janice Chapman also works in close collaboration with Laryngologists and ENT Surgeons in the rehabilitation of damaged voices. She was appointed a Research Associate of Sydney University and regularly visits Australia to work with singers, teachers and in the field of research. Her consultancy and workshop clients have included The London Symphony Chorus, The Royal Shakespeare Company, The B.B.C. Symphony Chorus, The Friends of Covent Garden, The British Voice Association, The Association of British Choral Directors and Opera Australia.
Janice Chapman is the author of a best-selling book, "Singing and Teaching Singing – A Holistic Approach to Classical Voice", published by Plural Publishing Inc. at the end of 2005, which has been adopted as a text book in many Universities and Colleges worldwide. This book has recently been released in a Second Edition.
In the Australia Day Honours, January 2004, Janice Chapman was awarded a Medal of the Order of Australia "for service to music as an operatic singer and teacher of voice, and as a contributor to research into human sound production and vocal health". In 2010 Janice was made a Fellow of the Guildhall School of Music and Drama. In 2012 The Association of Teachers of Singing in the UK invited her to become an Honorary President.

Home
About Singing & Teaching Singing: A Holistic Approach to Classical Voice
back


© Janice L Chapman 2013